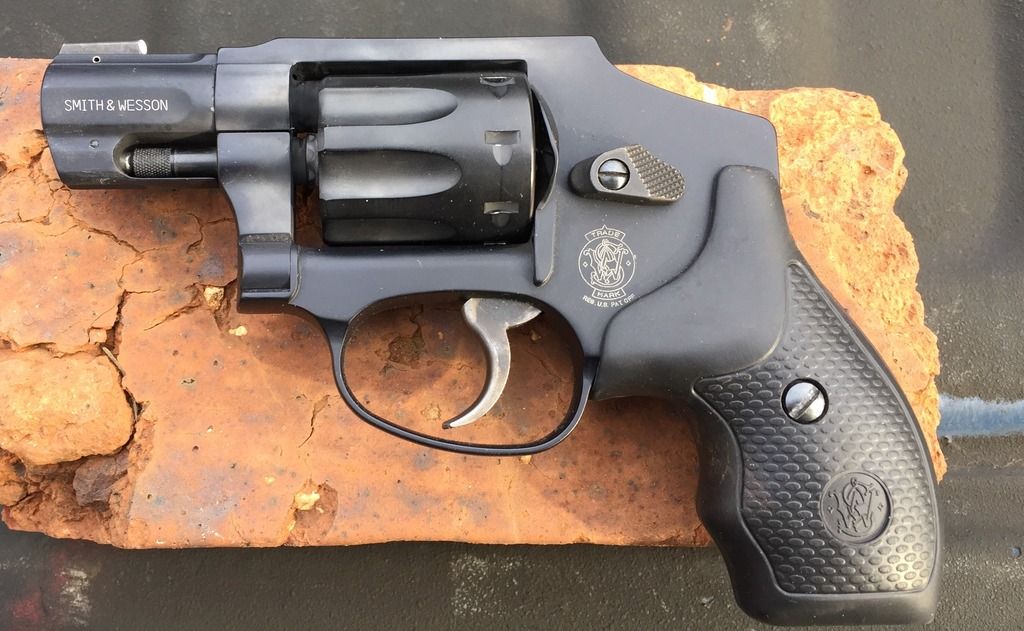 I've been looking for a small, lightweight revolver to fill a niche, specifically something smaller and lighter that is reliable and reasonably accurate. I'll get to the reasonably accurate part in a bit, as I have certain criteria for that that requires a bit of explaining.
I came across a Smith and Wesson Model 43C recently at a good price and picked it up to test. The 43C is an all aluminum frame and cylinder J frame revolver chambered in .22 Long Rifle with a capacity of eight rounds. It has a stainless steel barrel and an XS Sights white dot. The revolver weighs a whopping 11.5 ounces.
My example was purchased used and has had a reduced weight Wolff mainspring installed. The trigger pull weight is rather light and I had reservations about positive ignition, as the initial testing showed, those fears may be ungrounded. Of the 142 rounds fired during the testing with various ammunition, there were only two Failure To Fire's which appeared to be ammo related. To that point, let's take a look at the data.
The test parameters were conducted using a
Dot Torture
target. I chose this for the convenient numbers for tracking purposes and a reasonably sized aiming point, 2 1/16" to the outside of the circle by my measurement. The gun was cleaned by running a brass brush once through each cylinder and the barrel and wiping the cylinder face down with a clean, dry cloth. All shots were performed from 3 1/2 yard, freestyle, in a rapid fire, (as in front sight, trigger press, recover front sight, trigger press, etc.) fashion. I ran 16 rounds of all the various ammunition with the exception of one.
I ran 30 rounds of Sellier & Bellot, 38 grain, High Velocity, lead hollowpoints for my initial familiarization with the pistol. I started the test with the same ammo.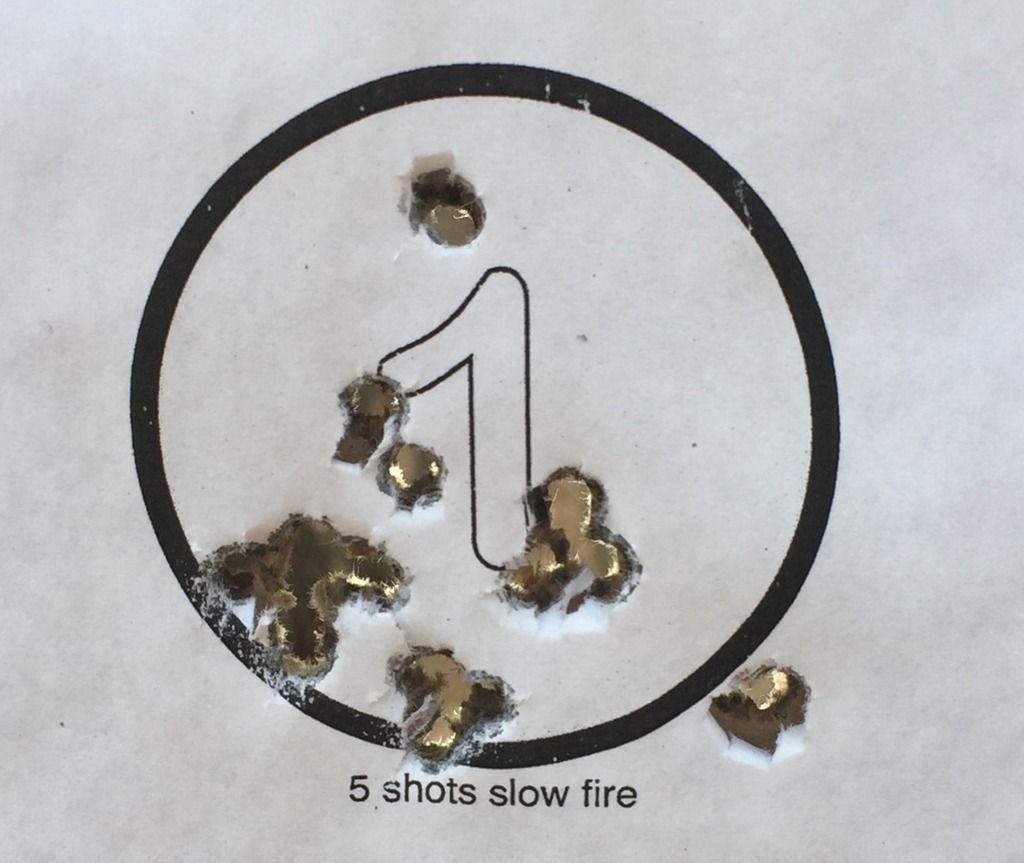 Sellier & Bellot .22 Long Rifle HV HP:
16 rounds.
Sticky extraction requiring a sharp rap from my support hand to remove the empty cases.
No Failures To Fire.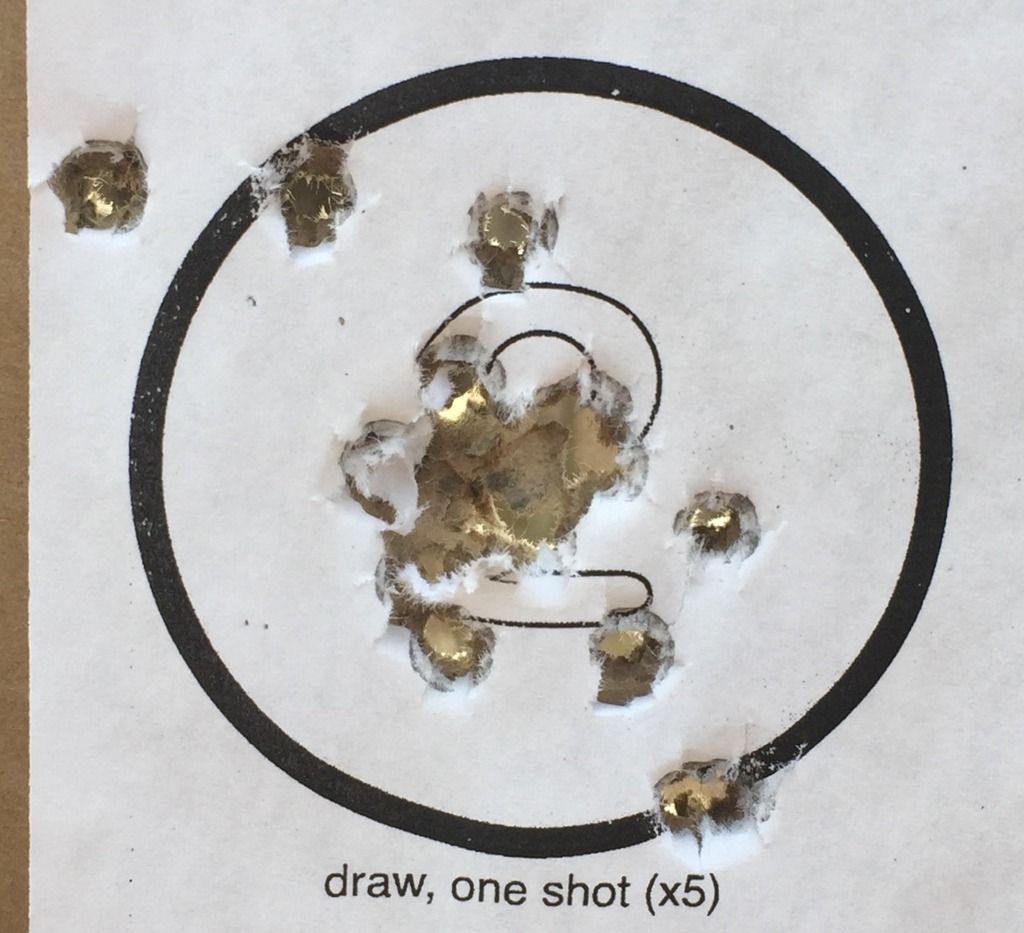 Aquila Super Extra 40 grain HV
16 rounds.
Slightly sticky extraction.
No Failures To Fire.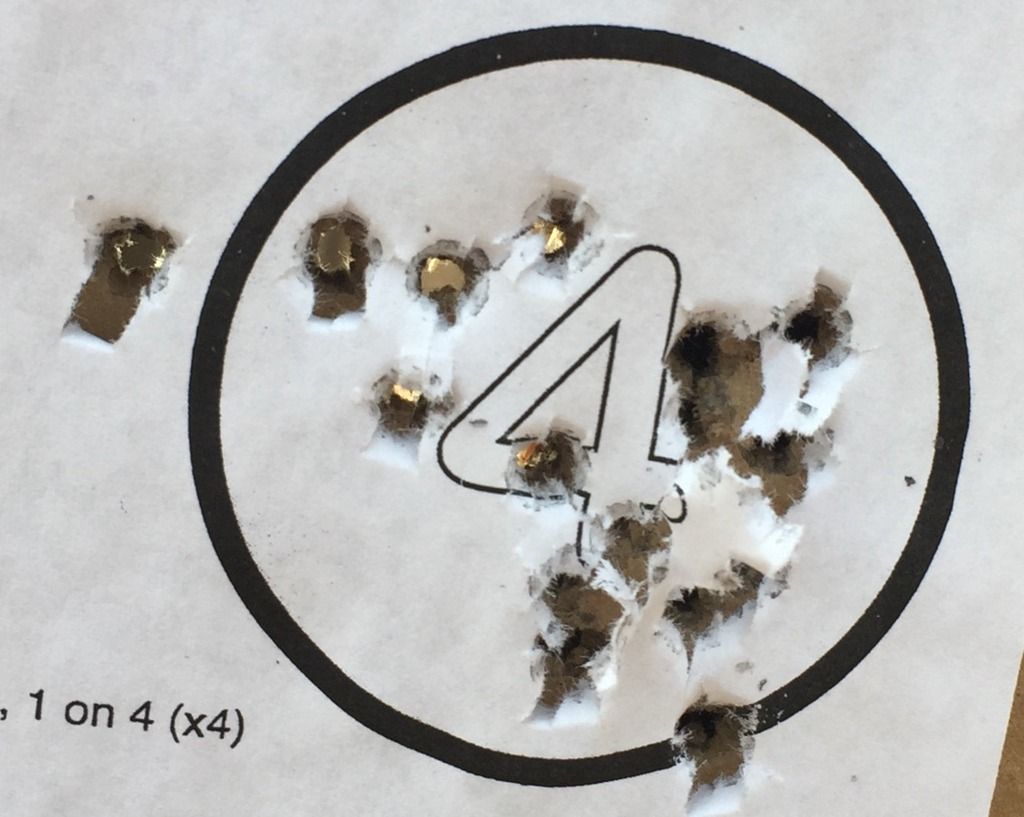 Blazer 40 grain
16 rounds.
No Failures To Fire.
Slightly sticky extraction.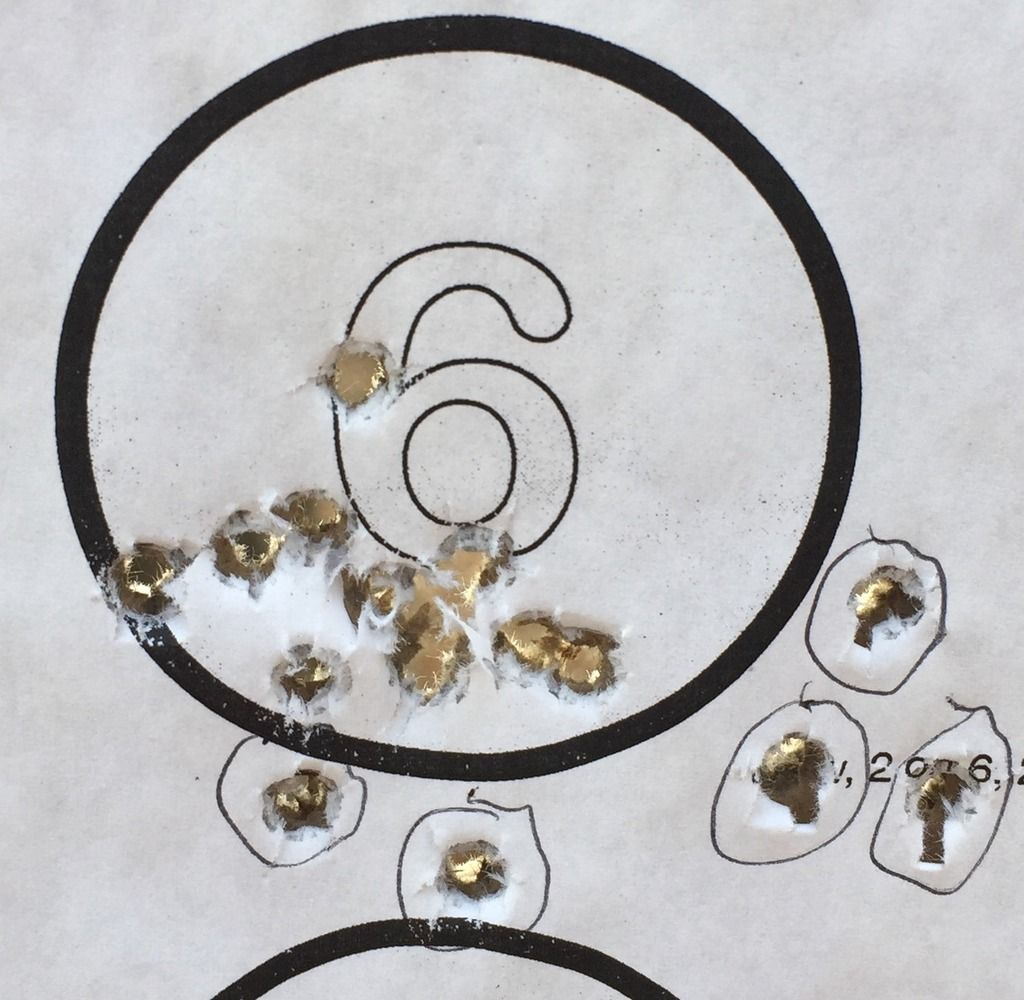 CCI MiniMag 36 grain HP
16 rounds.
Easy extraction on first cylinder, hard
with one finger on second cylinder.
No Failures To Fire.
Aguila Super Extra 40 grain, LRN, SV
16 rounds
#4 and #8 FTF, ammo related.
Slightly sticky extraction.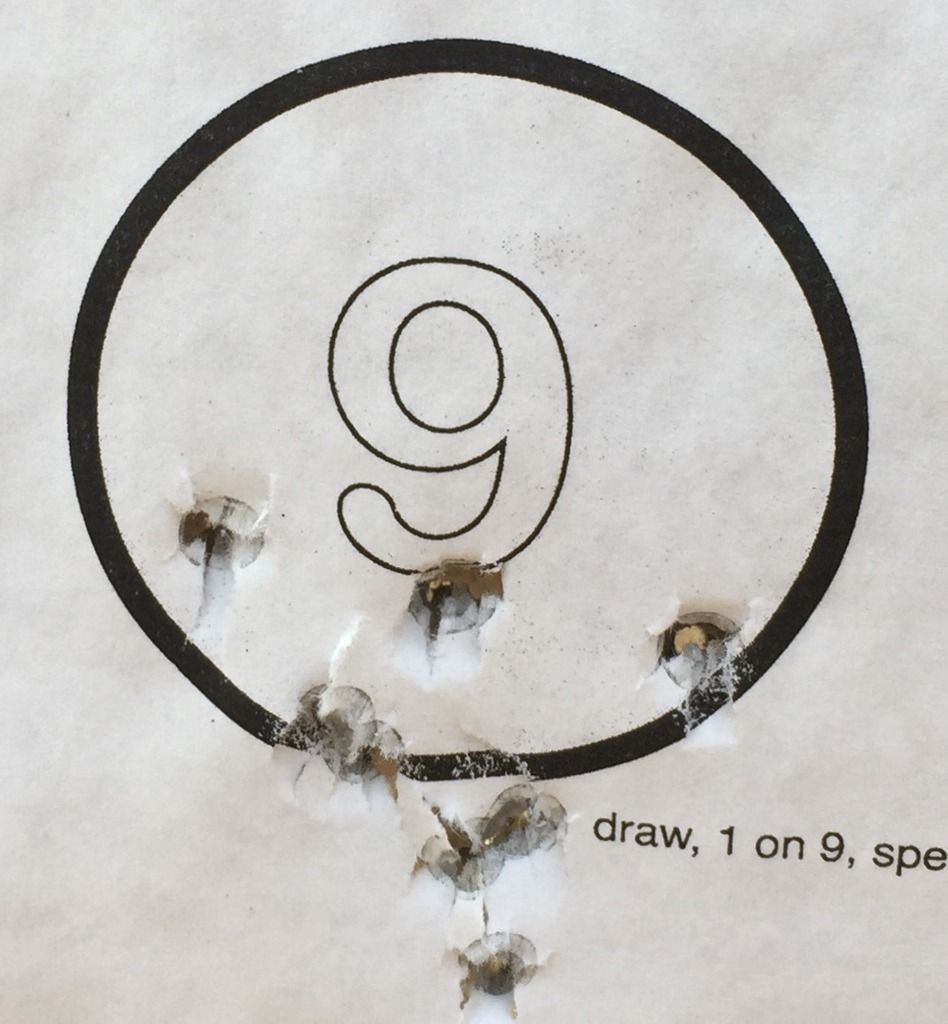 For fun!
Aguila Super Colibri, 20 grain
8 rounds.
EASY extraction!
One shot presentations from low ready from four and eight yards. Each shot was fired at a dot numbered dot.
Aguila Super Extra 40 grain HV24 rounds.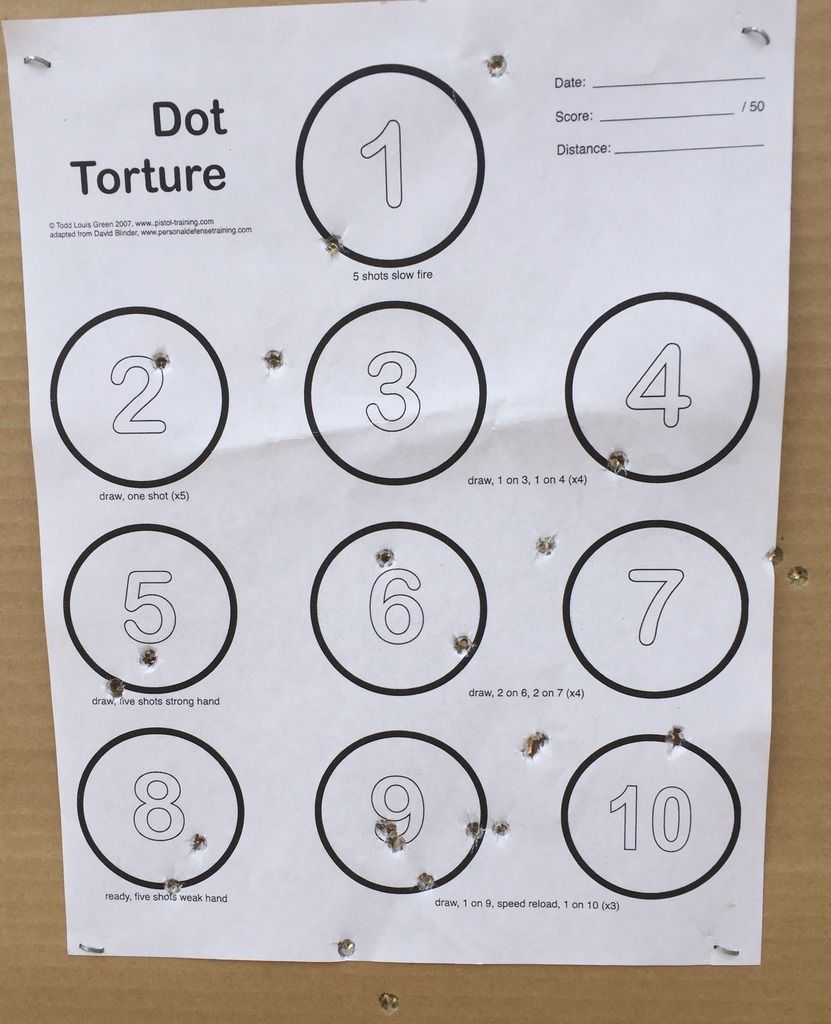 No Failures To Fire.
Slightly sticky extraction.
In conclusion, I'm not satisfied with the accuracy exhibited thus far. There's no reason to not be able to keep the shots within a 2" or smaller group from 3 1/2 yards. I blame that on me more so than the 43C. I've only recently started shooting revolvers with a coiled mainspring in a serious manner. The ability to maintain a good sight picture throughout the entire trigger press is affected by the difference and the difficulty is magnified by the small grips and sight radius. I don't view this as a hardware problem but as a software problem that I'll continue to address.